by Shawn Campbell
KMOV.com
Posted on December 17, 2014 at 6:30 PM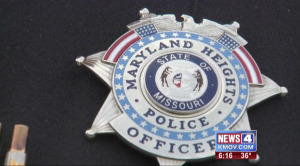 MARYLAND HEIGHTS (KMOV.com) – A St. Peter's man that lost consciousness Monday en route to a doctor appointment owes his life to a police officer that just happened to be patrolling the area.
Evelyn and Randy Hutton were on their way to Evelyn's doctor appointment when Randy lost consciousness due to a heart attack while driving east on 70 headed near Riverport. The couple's vehicle drifted towards the center median and Evelyn turned to find Randy passed out at the wheel and slumped down in the driver's seat.
"At that point I did not see anyway out because there were some cars ahead," says Evelyn Hutton.
Evelyn was able to pull the key out of the ignition and slow the car down to steer it closer the side of the highway.
"Somewhere I remember these flashing lights," says Evelyn. "I don't remember where they came up.
Those flashing lights were the patrol car of Maryland Heights Officer Chris Wegman, who was just pulling from 141 onto 70 to get back on 270 south.
Wegman saw the car driving erratically and drove towards the car. The Hutton's had already pulled over onto the southbound ramp by the time Wegman caught up to them.
Officer Wegman then rushed up to the car and saw Randy Hutton laying across the front seat of the car. Wegman pulled him out onto the shoulder and Evelyn Hutton began CPR.
The incident caught the attention of people driving by, resulting in some of them posting on Facebook and some calling in to Maryland Heights thinking that something else was going on.
With the help of other officers who rushed to the scene and a nurse passing by, they kept Randy going until rescue crews got there with a defibrillator. Rescue crews then took Randy Hutton to the hospital, where he made a recovery.
The Hutton's say they are looking forward to saying thank you to Officer Wegman for his part in the incident.
Read more: http://www.kmov.com/news/local/Officer-saves-mans-life-on-the-side-of-I-70-286161711.html#ixzz3MInSKcZ4