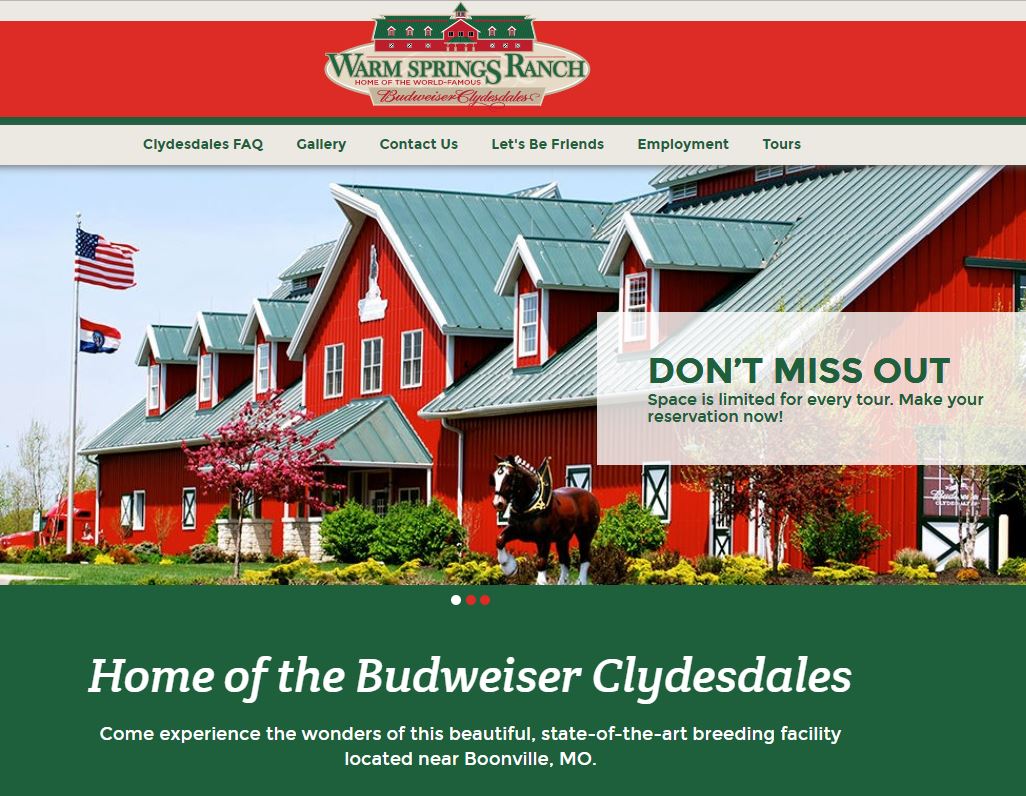 Once again, our Road Captain Dave Mills, has put together another great ride!
We are planning another BK MO III destination ride for 2018, and it appears the most interest is in Warm Springs Ranch, home of the Budweiser Clydesdales . They have 1.5 hour tours daily at 10AM and 2PM through the end of October. (This is a walking tour on flat ground.) Several other area MCs have made this ride and it gets great reviews.
Space is limited to 65 persons and the cost is $15 each (children under 2 are free). Reservations are required.
Here is the tentative schedule:
Meet location: Shell station at 5952 MO-94, Weldon Spring, MO 63304 (just NE of I-64)
Kickstands Up: 9:30 AM
Ride duration: 2.5 hours (taking a scenic route out MO-94) (It is 1 hour 40 mins taking I-70)
Lunch Stop: @ 12:00 – location TBD
Arrive Warm Springs: 1:30 PM (25270 State Highway 98, Boonville, MO 65233)
Tour: 2:00-3:30PM
Depart/return on your own
I will likely ask my wife Mary to drive so we have an alternative for any passengers that do not feel like spending 5 hours in the saddle in addition to the tour.
Warm Springs still has 50 slots available for Oct 14, but I am told they typically sell out. We can also consider October 7 or 21 as alternative dates if necessary. For MCs the make an exception to their cancellation policy and allow cancellations 48 hours in advance if we decide to waive off due to weather.
We've done several "destination" or "event" rides in the last year and they have been a great time. You get to hang out with your fellow BKs in a way that club meetings and lunch rides just don't let you do. So come hang out and check out some of the most awesome horses in the world!
Since reservations are required, I'll need a headcount. An advance payment may also be necessary.
Please respond to this email by Friday, September 21 if you intend to join in, and let me how many persons. I will confirm plans with everyone who responds before making reservations.
RWP!
Dave Mills
MO III RC