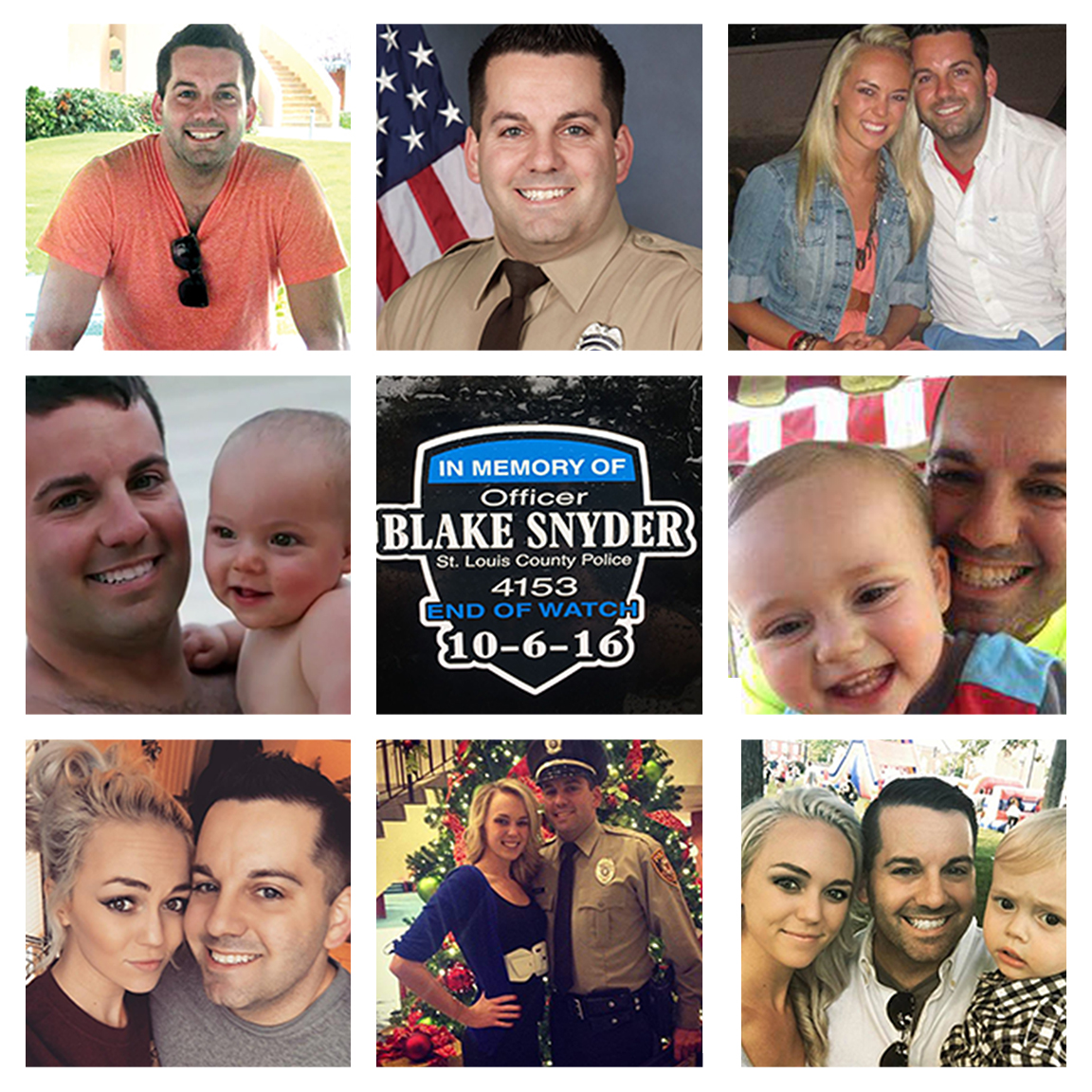 This post is copied from it's original site at corleyfoto.wordpress.com where I participate in a weekly photo challenge. The photo of this week's challenge was Names.
Names. Those etched in stone, those etched in our hearts. One name of many: Blake Snyder. Husband, father, son, brother, officer, friend.
The year 2016 saw a 56 percent increase in law enforcement gun deaths from 36 deaths in 2015 to 64 deaths in 2016. Each and every one of those officers, along with 76 other officers who lost their lives in 2016 while performing their duties, are memorialized on the Officer Down Memorial page as well as in the hearts and minds of those of us in the "blue" community. Whether we are active law enforcement, retired law enforcement, or the parent, spouse, child or friend of someone in law enforcement, the impact of these deaths are crushingly the same.
Metropolitan St. Louis had to face this tragedy when St. Louis County Police Officer Blake Snyder was shot and killed in the line of duty on Thursday, October 6, 2016. Metropolitan St. Louis had endured other officer involved tragedies in 2016 with one officer shot and paralyzed and another officer partially paralyzed in a traffic crash, but the shooting death of Officer Snyder drove home the fear that lurks just beyond the surface for those of us in the "thin blue line".
By all accounts, Officer Snyder was the epitome of what a law enforcement officer should be. He was a husband to a woman he adored and a father to a two year old son who was the light of his life. He was active in his church and spent many hours coaching soccer, a game he loved and played for many years. Quotes from different sites describe Officer Snyder as "faithful, reliable, and a man of great character (Pastor Stern, Destiny Church)" , "…always happy when he was helping or serving others (Wesley Strowmatt, lifelong friend)", "highly talented and creative graphic artist…an individual who gets the job done right the first time…responsible person…committed to task on hand (Linkedin)". Officer Snyder came to law enforcement at the relatively late age of 28 after graduating from Rank Jordan Technical College. He met his wife through his church where he was employed in graphic design and her father had been a St. Louis County police officer prior to his death from cancer. Her brother is also a member of the St. Louis County Police Department.
Blake Snyder was the type of man we all want our sons to be like. We want our daughters to marry a man like him and we want our fellow police officers, those who have our "Six" to be like him too. The name Blake Snyder won't soon be forgotten.
So, what's in a name? Here are 140 names, lost in the line of duty in 2016.
Cpl. Harvey Snook, III, Arlington Co. VA;
PO Thomas W. Cottrell, Jr. Danville PD, OH;
PO Douglas S. Barney, III, Unified PD of Greater Salt Lake, UT;
Corr. Officer Adam Conrad, Marion Co SO, IL;
SA Scott McGuire, US Dept Homeland Security;
Sgt. Jason Goodding, Seaside PD, OR;
Dep. Derek Geer, Mesa Co SO, CO;
Dep. Scott Ballantyne, Tulare Co SO, CA;
Sr. Dept. Mark F. Logsdon, Harford Co SO, MD;
Sr. Dep. Patrick B. Daily, Harford Co SO, MD;
Maj. Gregory E. Barney, Riverdale PD, GA;
PO Jason Moszer, Fargo PD, ND;
SA Lee Tartt, Miss. Dpt. Public Safety, MS;
Cp. Nate Carrigan, Park Co. SO, CO;
Off. Ashley Guindon, Prince William Co, PD, VA;
Dep. Travis Russell, Las Animas Co SO, CO;
Off. David Hofer, Euless PD, TX;
Off.Scot Fitzgerald, South Jasksonville PD, IL;
Trooper Sean E. Cullen NJ State Police NJ;
Dep. John Robert Kotfila, Jr., Hillsboroough Co SO, FL;
Off. Nathan Taylor, California Highway Patrol;
Officer Jacai D. Colson, Prince George's Co PD, MD;
Off. David Ortiz, El Paso PD, TX;
Sgt. Joseph G. Portaro WV State Police, WV;
Trooper Thomas L. Clardy, Mass. State Police;
Officer Allen Lee Jacobs, Greenville PD, SC;
Dep. Carl A. Koontz, Howard Co SO, IN;
Off. Susan Farrell, Des Moines PD;
Off. Carlos Puente-Morales, Des Moines PD;
Trooper Jeffrey Nichols, Texas Dept. Pub Safety;
Trooper Chad Phillip Dermyer, Virginia State PD;
Off. Steve M. Smith, Columbus Div of Police, OH;
Border Patrol Agent Jose Daniel Barraza, Homeland Security, Border Patrol;
Sgt. Jorge Ramos, FL Dept of Corrections;
Inv. Anthony "TJ" Freeman, Bibb Co SP, GA;
Det. Brad D. Lancaster, KCPD, KS;
Off. David Van Glasser, Phoenix, PD;
Off. Ean R. Johnson, Hilliard Div of Police, OH;
Off. Ronald Tarentino Jr, Auburn PD, MA;
Dep. Michael A. Winter, Branch Co SO. MI;
Sgt. Derrick Mingo, Winnsboro PD, LA;
Sgt. Verdell Smith, Sr., Memphis PD;
Off. Narasha Hunter New Orleans PD;
Deportation Off. Brian Beliso, Homeland Security;
Officer Endy Niddiobong Ekpanya, Pearland PD, TX;
Off. Michael J. Katherman, San Jose PD;
Off. Zachary Larnerd, Gainesboro PD, TN;
Sgt. Stacey A. Baumgarner, Patton Village PD,TX;
Dep. David F. Michel, Jr., Jefferson Parish SO, LA;
Dep. Martin Tase Sturgill, II, Humphreys CoSO. TN;
Sgt. David Elahi, Sterlington PD, LA;
Dep. Paul Clark, St. Francois Co SO, MO;
Off. Calvin "Mark" McCullers, Southern Methodist Univ. PD, TX;
Off. Michael Leslie Krol, Dallas;
Sgt. Michael Joseph Smith, Dallas;
Off. Patricio E. Zamarripa, Dallas;
Off. Brent A. Thompson, Dallas;
Sr. Cpl. Lorne B. Ahrens, Dallas;
Off. Michael J. Ventura, Salem PD, WI;
Security Supervisor Joseph P. Zangaro, Berrien Co SO, MI;
Ct. Off. Ronald Eugne Kienzle, Berrien Co SSO, MI;
Off. Marco Antonio Zarate, Bellaire PD, TX;
Corr. Off Mari Johnson, Texas Dept. Crim Justice;
Cpl. Montrell Lyle Jackson, Baton Rouge;
Dep. Bradford Allen Garafola, East Baton Rouge Parish Sheriff's Dept.;
Off. Matthew Lane Gerald, Baton Rouge PD;
Corr. Off. Kristopher D. Moules, Luzerne Co. Ciorr. Facility, PA;
Capt. Robert D. Melton, Knasas City PD, KS;
Off. Jonathan M. DeGuzman, San Diego PD;
Sgt. Shawn Miller, West Des Moines PD;
Off. Justin Schrlen, Amarillo PD;
SA De'Greaun Frazier, Tenn. Bureau of Inv.;
Cpl. Bill Cooper, Sebastian Co SO, AR
Border Patrol Agent Manuel Alvarez, Dept. Homeland Security;
Off. Jose Ismael Chavez, Hatch PD, NM;
Off. Timothy K. Smith, Eastman PD, GA;
Off. Shannon Brown, Fenton PD, LA;
Off. Kenneth R. Moats, Maryville PD, TN;
Sr. Officer LeAndr Frank, Navajo Div Pub Safety, TR;
Off. Clint Corvinus, Alamogordo PD, NM;
Sr. Off. Amir Abdul-Khaliz, Austin PD;
Lt. Waldemar Rivera-Santiago, Puerto Rico PD;
Dep. Kenneth H. Maltby, Eastland Co. SO, TX;
Master Dep. Bandon Collins Johnson Co SO, KS;
K9 Officer Timothy J. Brackeen, Shelby PD, NC;
Off. Robert A. Barker, McCrory PD, AR;
Off. Jason Gallero, Cook Co. Sheriff PD, IL;
Trooper Kenneth V. Velez, Ohio State PD;
Corr. Off. Kenneth Bettis, Alabama Dept. of Corrections;
Sgt. Kenneth Steil, Detroit;
Sgt. Kerry Winters, Ulster County SO, NY;
Agt. Edwin Pabon-Robles, Puerto Rico PD;
Corr. Officer, David M. Weaver, Pennsylvania Dept of Corr.;
Dept. John Thomas Isenhour, Forsyth Co SO, NC;
Cpl. Robert E. Ransom, Gregg County SO, TX;
Sgt. Steve Owen, LA CO Sheriff Dept.;
Inv. Paul R. Steuwer, NY State Police;
Agt. Victor Rosado-Rosa, Puerto Rico PD;
Off. Blake Snyder, St. Louis Co PD;
Off. Lesley Zerebny, Palm Springs PD, CA;
Off. Jose Giolbert Vega, Palm Springs PD, CA;
Sgt. Luis A. Melendez-Maldonado, Puerto Rico PD;
Off. Aaron J. Christian, Chesapeake PD, OH;
Dep. Jack Hopkins, Modoc Co SO. CA;
Sgt. Alfonso Lopez, LA Co Sheriff;
Trooper Timothy P. Pratt, NY State Police;
Sgt. Allen Brandt, Fairbanks PD;
Off. James Brockmeyer, Chester Police Dept. IL;
Off. Myron Jarrett, Detroit PD;
Dep. Dan Glaze, Rusk Co. SO, WI;
Sgt. Rod Lucas, Fresno Co SO. CA;
Dep. Scott Williams, Taylor Co SO, FL;
Off. Jorge Sanchez, Miami PD;
Off. Justin Scott Martin, Urbandale, PD, IA;
Sgt. Anthony David Beminio, Des Moines PD;
Sgt. Paul Tuozzolo, NYPD;
Sgt. Patrick M. Sondron, Peach County SO, GA;
Off. Cody Brotherson, West Valley City PD, UT;
Off. Darrin Reed, Show Low PD, AZ;
Dep. Daryl Smallwood, Peach County SO, GA;
Off. Jude Williams Lewis, New Orleans PD;
Off. Scott Leslie Bashioum, Canonsburg Borough PD, PA;
Dep. Dennis Wallace, Stanislaus Co SO, CA;
Dep. Justin White, Newton Co SO, GA;
Border Patrol Agnt David Gomez, Dept. Homeland Security;
Asst. Commander Kenneth J. Starrs, South Texas Specialized Crimes Task Force;
Dep. Commander Patrick T. Carothers, US Dept of Justice, Marshals Service;
Det. Benjamin E. Marconi, San Antonio PD;
Dep. Eric J. Oliver, Nassau Co SO, FL;
Trooper Eric Dale Ellsworth, Utah Highway Patrol;
Sgt. Collin James Rose, Wayne State Uni. PD, MI;
Trooper Cody James Donahue, Colorado State Patrol;
Off. Reginald Jacob "Jak" Gutierrez, Tacoma PD;
Trooper Frankie Lamar Williams, New Jersey State police;
Dep. Ryan Thomas, Valencia Co SO, NM;
Off. Nicholas Ryan Smarr, Americus PD, GA;
Off. Jody Carl Smith, Georgia Southwestern State University, GA;
Corr. Officr Lisa Mauldin, Miller Co SO, AR;
Lt. William G. Faron, NJ State Police;
Trooper Landon E. Weaver, Pennysylvania State Police
Please keep the families and friends of these fallen heroes in your thoughts and prayers.