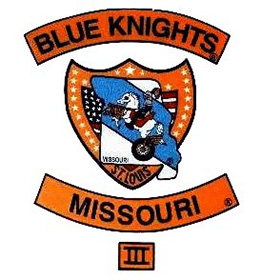 The St. Louis Metro Chapter of the Blue Knights Missouri III proudly hosted the Mid-West Regional Conference June 6 – June 9, 2019. The MWRC covers the geographical area of eight Midwest states (Iowa, Kansas, Minnesota, Missouri, North Dakota, Nebraska, Oklahoma and South Dakota) and Manitoba Canada.
There were approximately 200 in attendance representing 37 chapters from 17 states. Chapters represented at the conference were Arizona VI, Arkansas II, Florida XVIII, Illinois 1, Illinois V, Illinois XI, Illinois XII, Illinois XIX, Illinois XX, Illinois XXVI, Indiana III, Iowa I, Iowa III, Iowa VI, Louisiana IX, Kansas I, Kansas III, Kansas V, Minnesota I, Minnesota II, Minnesota IV, Minnesota V, Minnesota IX, Missouri I, Missouri III, Missouri X, Nebraska I, Nebraska II, Ohio, X, Oklahoma I, Oklahoma II, Pennsylvania X, Texas XXXI, Virginia V, Virginia XIII, Wisconsin V and Wisconsin VI.
BKMO3 president Doug Casteel said, "The members of MO III pulled together to make sure all of our guests had a good time.  We fed them well and had several guided tours of the area roads that many riders raved about.  When the riding was done we made sure they had plenty of beverages with a DJ each night…Ride with Pride!"
Thank you to all who made this conference possible and a huge success.